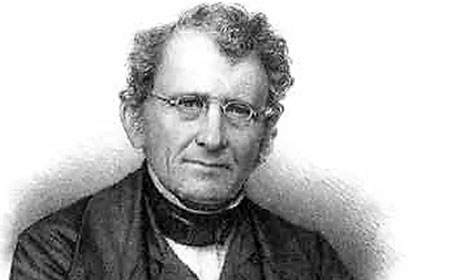 Location: Wales & Pennsylvania
Site/Company: Yniscedwyn Works, Crane Iron Company
Historical Significance:
David Thomas was a Welsh native who worked on his father's farm before going into the iron industry, first in Wales and later in Lehigh Valley, Pa., where he built the first anthracite-fueled blast furnace in America. His place in the Hall of Fame rests on his entrepreneurship in developing an easy method of smelting and producing anthracite iron. Thomas's interests in coal and iron ore mines also lead him to found the American Institute of Mining, Metallurgical, and Petroleum as well as the American Association of Industrial Engineers.
Thomas entered the ironmaking industry when he left home at the age of 17, in 1812, and worked for five years at the Neath Abbey Iron Works, later the largest iron works in Wales. It was at another nearby iron works, as the general superintendent of the blast furnaces and of the iron and coal mines, that he began to experiment with using anthracite coal as a smelting fuel.
Thomas' experiments spanned nearly 22 years and included unprofitable attempts to discover the exact portions of coke and anthracite coal using cold blast furnaces that he designed and built himself. It wasn't until the invention of the hot blast furnace in 1828 that enabled Thomas to reach his ultimate goal. This involved using a hot blast to smelt iron ore and anthracite coal to produce anthracite iron.
His success was revolutionary in part because of the nature of anthracite coal: it has the highest carbon content, had the fewest impurities, and the highest energy density of any other type of coal. The result was iron strong enough for construction but with malleable qualities to make a diverse number of products such cast-iron building material, pipes, and tunnel supports.
In 1839, Thomas moved to America to further his experiments in a region of the Lehigh Valley rich with anthracite coal and iron ore deposits. While working at the Crane Iron Company of Catasauqua, Pa., Thomas developed the nation's first anthracite-fueled blast furnace. In 1854, Thomas built his own company upstream, and the Thomas Iron Company soon became a major anthracite iron works thanks to Thomas' innovations. The company continued through the early 1930s; part of the furnace complex still stands as a community historic site.
Iron and Steel Hall of Fame Induction - 2023
Illustration: www.walesonline.co.uk