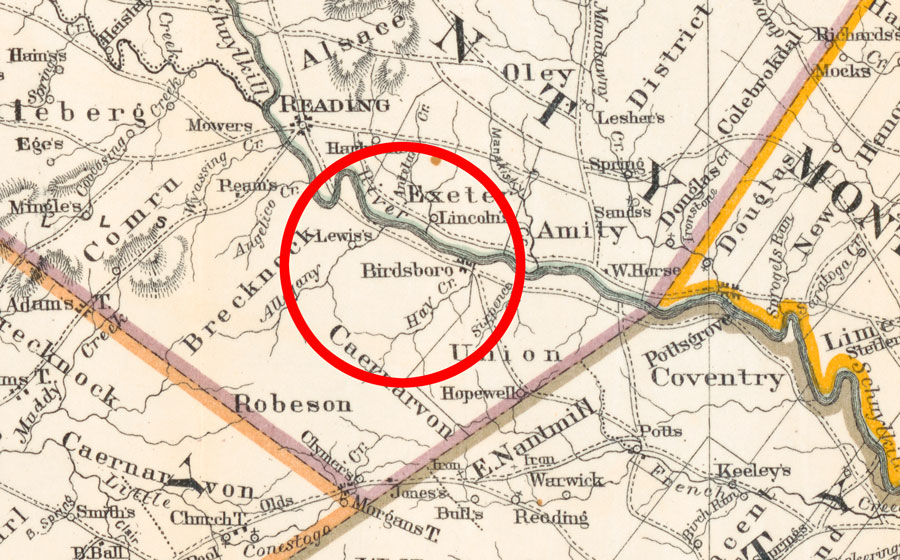 Location: Berks & Bucks Counties, PA
Site/Company: Pine Forge, New Pine Forge, Birdsboro Furnace, Birdsboro Iron Works, Durham Furnace, Roxborough Furnace
Historical Significance:
William Bird, born of Dutch ancestry in New Jersey and father of Mark Bird of Hopewell Furnace, was part of a second generation of entrepreneurs who helped colonial Pennsylvania become the center of a thriving iron industry, giving it nickname the "Birmingham of modern civilization."
Bird began his career in the 1730s working as a cordwood contractor, supplying wood to two important iron works, Pott's Warwick Furnace in Chester County and Rutter's Pine Forge in Berks County. Bird later learned the ironmaking trade by serving an apprenticeship under Thomas Rutter, owner of Colebrookdale Furnace, the state's first cold blast furnace (1724) and Pine Forge, the first forge in the state (1715).
As early as 1737, Bird began to acquire land warrants along the West Branch of Hay Creek, near its convergence with the Schuylkill River. It was here where he built the Birdsboro Furnace and Iron Works – and the iron community that grew into the town of Birdsboro. The enterprise helped Bird become known as "the" ironmaster of Berks County. In addition to an important cold blast charcoal furnace, he owned numerous enterprises on 8,000 acres of land including several grist and sawmills, and three refinery forges built at the old Pine Forge site along the Manatawny Creek.
Pennsylvania Map, Published 1775 Library of Congress
Iron and Steel Hall of Fame Induction - 2023