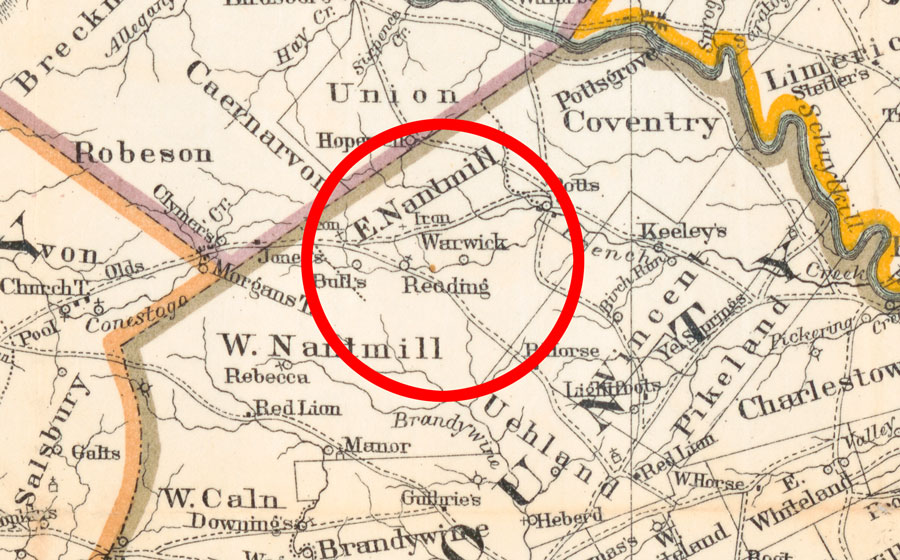 Location: Chester County, PA
Site/Company: Reading Furnace
Historical Significance:
Prior to the American Revolution, a slave who was known only by the name of "Noke" worked at Reading Furnace, an iron plantation spanning Warwick and East Nantmeal Townships, Chester County.
While slaves made up as much as 50% of the labor force at various Pennsylvania iron furnaces and forges between the years 1725 and 1750, Noke's employment was highly unusual since he worked as a founder – a position of great responsibility in the iron-making industry.
In the 1700s, it was rare for slaves to be founders not only because they would have authority over white workers, but the job of obtaining a good "blast" required skill and Black workers rarely received such training. Among other skills, founders were expected to "read" the qualities of the flames that shot up from a furnace stack.
Working in a Bridge House, a frame structure that extended from the stack to the Charcoal House, Noke, as founder, needed to gage the proper percentage and grade of iron ore, charcoal, and limestone and other so-called "flux," and to direct men shoveling material into the stack in the blazing heat. Then Noke would have had to continuously monitor the operation, which usually lasted 24/7 for months on end.
Noke's exact date of death is not known, but according to the 2004 book, Forging America, it is recorded that Noke's employers at Reading Furnace gave his widow and two children some cash support in 1760.
What is known is that Noke worked when Reading Furnace was one of the top iron producers in the colony. And not only did he contribute to the reputation of high-quality Pennsylvania charcoal iron, he also literally gave his life to the work, perishing in a fall from the top of the furnace stack.
Iron and Steel Hall of Fame Induction - 2023
Pennsylvania Map, Published 1775 Library of Congress