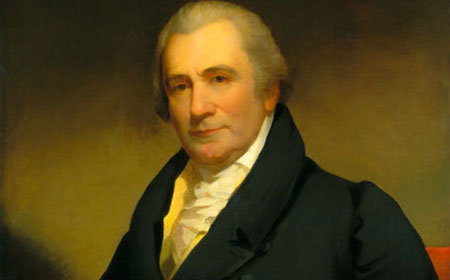 Location: Berks, Lebanon & Chester Counties, PA
Site/Company: Hopewell Forges, Reading Furnace, Elizabeth Furnace, Union Forge, Mt. Joy Forge, Colebrook Furnace, and others
Historical Significance:
Robert Coleman, a native of County Donegal, Ireland, immigrated to America in 1764, at the age of sixteen, and learned the iron trade while working as a clerk and bookkeeper for the Grubb brothers, Curtis and Peter Grubb of the Hopewell Forge & Furnace near present-day Elverson. He later worked for James Old, (whose oldest daughter became his wife in 1773) running Old's iron works in Berks and at Reading Furnace in Chester County.
Coleman's early success came when he leased a struggling Lancaster County concern, Elizabeth Furnace, near the town of Manheim, during an opportune time – 1776 – and began supplying the Continental Army with cannon and grapeshot.
Coleman became a millionaire in the process, and after the war, acquired all the shares in the profitable Elizabeth Furnace between the years of 1780 and 1794. In addition to being one of America's first industrialists and millionaires, Coleman established many standard business practices such as turning all profits back in the iron business or towards acquiring other forges and furnaces.
In addition, Coleman managed several iron works at once and typically tried to hold a majority interest in any ownership. They included Mt. Joy Forge (a successor to Valley Forge), Reading Furnace, Upper and Lower Hopewell Forges, and Cornwall Furnace. The latter two sites were part of the Grubb iron empire in Lancaster. The Grubb family had at least 18 iron works, most of which Coleman acquired through larger and larger interest shares between 1786 and 1803.
One purchase included the Cornwall Ore Bank, then one of the richest iron ore deposits in the nation. The Lebanon-based site helped Coleman's final legacy succeed: Colebrook Furnace, built in 1791. The success of Colebrook enabled Coleman to acquire 80 percent ownership of Grubb's Cornwall Ironworks, which eventually had two blast furnaces and a coke plant. Colebrook no longer stands but the 19th-century rebuilt Cornwall Iron Furnace (once owned by Bethlehem Steel) is open to the public as a National Historic Landmark.
Iron and Steel Hall of Fame Induction - 2023
Painting of Coleman by Jacob Eichholtz circa 1812-1815