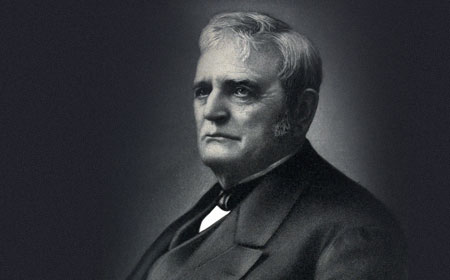 Location: Grand Detour, IL
Site/Company: Deere & Company
Historical Significance:
John Deere was a former blacksmith who grew up in Vermont and who discovered his legacy when he moved to the prairie lands of Illinois and used his blacksmithing skills to develop the first commercially successful, self-scouring steel plow in 1837. The following year, he established a company to manufacture his invention that still bears his name.
Although Deere was not directly involved in the steel business, his place in the Iron & Steel Hall of Fame rests on his innovative use of steel. He might have remained in Vermont, the only child of a widow who lost her husband at sea, if it had not been for the New England economic collapse of 1836. Within the year, he followed other Vermonters to Illinois and established a blacksmith shop in the small town of Grand Detour that soon had a large clientele.
It was there that Deere took notice that he often had to repair cast iron plows for farmers who discussed his idea that the old plows were designed for the light, sandy soils of New England, not the thick, sticky soils of the Midwest prairie. What was needed was a light plow that had a steel blade that not only could cut through the soil but could prevent soil from clinging to the plow bottom. Because farmers no longer had to stop and scrape off dirt every few feet, Deer's subsequent invention was called "self-scouring."
In less than two years, Deere designed and produced three protypes and sold them by 1838. Within a decade, Deere moved to Moline and established a water-powered plant on the Mississippi River. He and a partner were producing 1,000 plows a year, moving products to market and bringing in supplies by riverboat.
The efficiency of Deere's plant and his reputation for quality work meant that word spread rapidly. Soon farmers throughout the Midwest were cultivating their land with steel plows, launching what historians say was the successful establishment of civilization in the west and the physical growth of the United States.
Iron and Steel Hall of Fame Induction - 2023