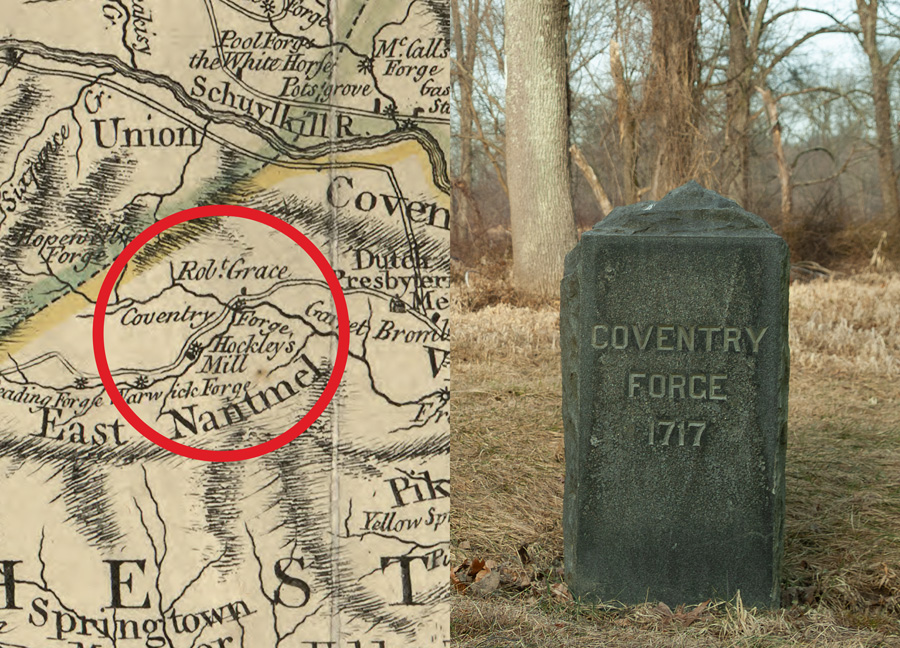 Anna (Rutter) Savage Nutt 1686 - 1760
Rebecca (Savage) Nutt Grace 1717 - 1800
Site/Company: Coventry Forge, Warwick Furnace
Historical Significance:
A native of Bristol, Pa. Anna Rutter became a leader of America's nascent iron industry in part because of her two marriages to leading Chester County ironmasters, first to Samuel Savage, a protégé of Thomas Rutter, and then to Samuel Nutt of the Coventry Ironworks, the second ironworks in Pennsylvania. Anna Rutter was the mother of several children who were connected to the iron business including Rebecca, who married her stepfather's nephew, Samuel Nutt, Jr. Another daughter, Ruth, married into the Potts ironmaster family.
Between the years 1736 and 1742, Anna had several losses: first her husband, Samuel, then her son-in-law Samuel Nutt, Jr (1739), and finally her son Thomas Savage (1742). All were involved in the family's Chester County holdings. Anna and her daughter Rebecca Savage Nutt would go on to be the sole owners not only of Coventry but of Warwick Furnace, which Anna is credited for building in 1737.
Rebecca would later marry Robert Grace and together they managed Warwick Furnace. Grace was a friend of Benjamin Franklin, and under the business of Anna Nutt Co., the furnace produced the popular Franklin stove beginning in 1742. Along with iron plate and munitions and cannons during the American Revolution, Warwick soon grew into one of the largest producing furnaces in Pennsylvania and probably the colonies.
Today Anna and Rebecca are considered the first females to have a sole proprietorship in a major iron enterprise during a critical time – when colonial Pennsylvania was the center of an effort to initiate and sustain advances in iron making technology in the New World.
Iron and Steel Hall of Fame Induction - 2023
Pennsylvania Map, Published 1775 Library of Congress