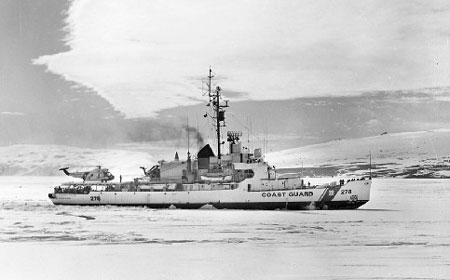 The Wind-class icebreakers were considered the most technologically advanced icebreakers in the world when first built, and they were also heavily armed due to their construction during wartime. These ships were the first class of true icebreakers built by the United States.
Their hull was of unprecedented strength and structural integrity. The outer hull plating was constructed with 1-5/8 inch-thick high tensile steel and they had a double bottom above the waterline with the two "skins" being approximately 15 inches apart, insulated with cork. The entire hull was designed for great strength. Their bow had a sloping forefoot that enabled the vessel to ride up on heavy ice and break it with the weight of the vessel.
The Wind class ships included Staten Island, Southwind, Eastwind, Westwind, Northwind, Burton Island, and Edisto. The Western Pipe and Steel Company in San Pedro, CA, built these icebreakers, which operated from 1942-1989.
The general characteristics of the "Wind" class included the utilization of a bow propeller and relatively short length in proportion to the great power developed. The bow propeller created a wash that forced broken ice away from the sides of the vessel. Relatively short length was required to allow the vessel to follow winding leads through ice. The hull was of unprecedented strength and structural integrity, with high tensile steel plating 1 5/8 inch in thickness and welded rather than riveted. The vessels also had fore, aft, and side heeling tanks with pumps to enable fast movement of water weight within the vessel to aid in rocking the ship free from ice. A padded section at the stern nestled the bow of any vessel being towed through ice.