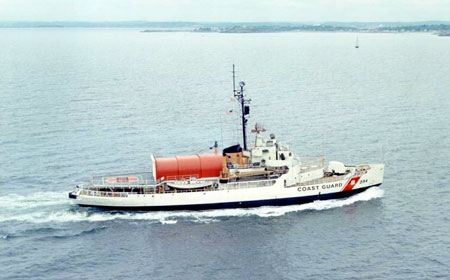 Builder: Western Pipe and Steel Company (San Pedro, California)

Commissioned: March 20, 1947

Decommissioned: October 10, 1965

Length: 269 feet

Beam: 63.5 feet

Displacement: 5,957 tons

Speed: 13 knots (15mph)

Ice Capacity:

Wind Class
History: Edisto was built during peacetime, so she had a much lighter armament than her war-built sisters. She first served under the U.S. Navy where she helped navigate through ice, trained sailors and tested cold weather equipment, collected valuable scientific data, and more. In 1950, Edisto set a record for northern most penetration by reaching latitude 82 degrees north. In April 1965, Edisto battled some of thickest and hardest ice ever encountered by an American icebreaker. In October of that year, she was the first U.S. Navy icebreaker to be turned over to the U.S. Coast Guard. Under the Coast Guard, Edisto repaired cables, supplied American bases, conducted oceanographic research, and more. Edisto's final cruise commenced at Baltimore on July 7, 1974. She studied icebergs of varying sizes and shapes off the west coast of Greenland, taking aerial, surface, and sonar measurements to determine their rates of deterioration and drift. Edisto was decommissioned in November 1974 and sold for scrap metal.