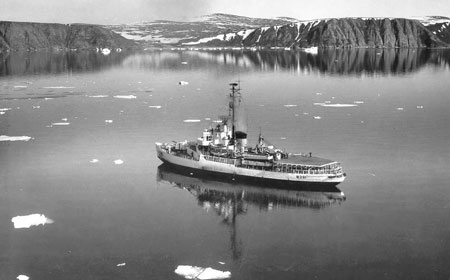 Western Pipe & Steel Company was created in Los Angeles, California, in 1906 by T.A. Hays and James A. Talbot. In 1917, Hays and Talbot acquired the Shaw-Batcher Company Ship Works, in San Francisco, which had been established to build cargo ships for the U.S. Shipping Board. Then, in 1918, they established Southwestern Shipbuilding in San Pedro.
The onset of World War I gave Western Pipe & Steel Company its first step into the shipbuilding industry. The Shipping Board's contract with the steel company called for the building of eighteen vessels about 5,650 tons each.
Between the wars, Western Pipe & Steel Company's shipbuilding continued with more than 30 gasoline and water barges and lighters. One of the most important contracts awarded to Western Pipe & Steel Company during peacetime was for work on the Grand Coulee Dam project in the 1930s. WPS was awarded the contract to build the dam's penstock (a structure that controls water flow) and pump inlet pipes.
In the late 1930s, the Maritime Commission was set up and tasked with developing a plan for replacing America's ageing merchant fleet with more modern vessels suitable for use as naval auxiliaries in the event of war. The commission introduced the Long Range Shipbuilding Program in 1937, which set a goal of producing 500 new merchant ships over a ten-year period. The commission began to offer public contracts and the Western Pipe & Steel Company was awarded a $10 million contract for the production of five C1 type cargo vessels. Later, WPS built the larger and faster C3 type vessels.
In 1941, the U.S. Navy contracted work from Western Pipe & Steel Company and a Navy grant enabled the construction of a second shipyard in San Pedro Bay, California. The most notable ships built at the San Pedro yard were the seven Wind class icebreakers, whose specifications were so imposing that Western Pipe & Steel Company was the only bidder. The yard also built a number of small warships including destroyer escorts, LSM's, and Coast Guard cutters. In total, from 1941 to 1947, Western Pipe & Steel Company build more than 100 ships.
In late 1945, shortly after the war, Western Pipe & Steel Company sold to Consolidated Steel of California, which in turn sold to U.S. Steel in 1948.