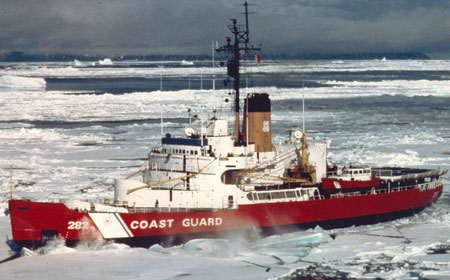 Builder: Western Pipe and Steel Company (San Pedro, California)

Commissioned: July 28,1945

Decommissioned: January 20, 1989

Length: 269 feet

Beam: 63.5 feet

Displacement: 6,615 tons

Speed: 16.8 knots (19.3mph)

Ice Capacity: 13 feet

Wind Class
History: Northwind had a long, important history, with a lot of "firsts." Her first mission was Operation Nanook in the summer of 1946 in which she assisted in a Danish-American project to establish a radio and weather station in Thule, Greenland. During that mission, the first helicopter deployment from a Coast Guard icebreaker occurred from Northwind. From December 1946 to January 1947, Northwind was the only U.S. Coast Guard vessel to participate in Operation Highjump, which established the research base Little America IV. She became the first U.S. cutter to cross the Antarctic Circle and completed the first major rescue mission of a submarine beset in ice when she twice broke out the damaged USS Sennet. Her crew played the first baseball game and the first golf tournament in Antarctica. In 1952, Northwind broke the polar icebreaking record for miles sailed north of the Arctic Circle in one season: 10,029 miles. Two years later, she participated in the Canadian-U.S. Beaufort Sea Expedition, the first time ships sailing from east and west met in the Northwest Passage. In July 1965, Northwind was the first western vessel to operate in the Kara Sea of the Soviet Union. Then, in the fall of 1967, she made the northern-most penetration into Arctic pack ice by any surface vessel in history at the time. Northwind broke her own record in 1970, when she traveled 9 miles further north than in 1967. In November 1984, Northwind became the first icebreaker to make a narcotics seizer when she seized 20 short tons of marijuana in the Caribbean, a marijuana seizure record for U.S. icebreakers. Northwind was decommissioned in January 1989. She was the last remaining of the original seven Wind-class icebreakers.