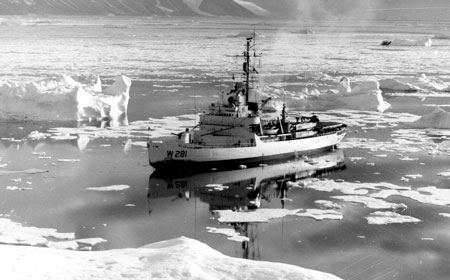 Builder: Western Pipe and Steel Company (San Pedro, California)

Commissioned: September 18, 1944

Decommissioned: February 29, 1988

Length: 269 feet

Beam: 63.5 feet

Displacement: 6,615 tons

Speed: 15.5 knots (17.8mph)

Ice Capacity: 13 feet

Wind Class
History: Westwind served under the Soviet Union until 1951. In 1962, she was part of SUNEC '62 – hull stress tests conducted for the design of future icebreakers. Westwind received an extensive refit in 1975 and then served on the Great Lakes. Her homeport changed to Alabama in 1982 and then she sustained major hull damage in 1984 on an Operation Deep Freeze cruise. Funding cuts reduced operating funds for icebreakers, ending plans to refit the Westwind, which was decommissioned in February 1988.