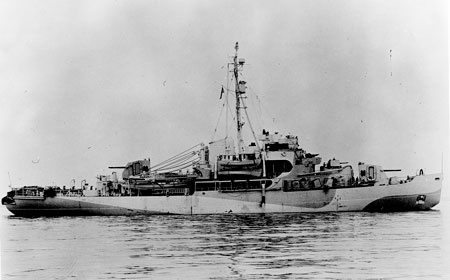 Builder: Western Pipe and Steel Company (San Pedro, California)

Commissioned: June 3, 1944

Decommissioned: December 1968

Length: 269 feet

Beam: 63.5 feet

Displacement: 6,615 tons

Speed: 16.8 knots (19.3mph)

Ice Capacity: 13 feet

Wind Class
History: During World War II, Eastwind ferried 200 U.S. army troops which captured the last German weather station in Greenland. She also seized the German trawler Externsteine, which was resupplying the base. Eastwind was the first cutter ever to circumnavigate the globe. In October 1960, as part of Operation Deep Freeze, she departed Boston, passed through the Panama Canal, crossed the Pacific, visited New Zealand, went to Antarctica, traveled the Indian Ocean, came through the Suez Canal, crossed the Mediterranean Sea and the Atlantic Ocean to return home in May 1961. Eastwind's deep draft was problematic on the shallow Great Lakes and damage led to her decommissioning and being sold for scrap in 1968.