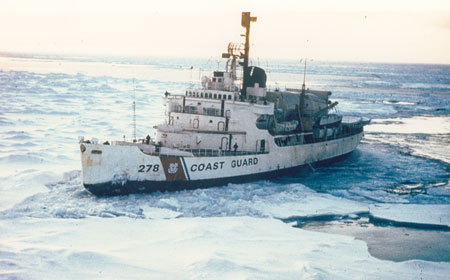 Builder: Western Pipe and Steel Company (San Pedro, California)

Commissioned: February 26, 1944

Decommissioned: November 15, 1974

Speed: 16.8 knots (19.3mph)
Wind Class
History: Staten Island immediately served the Soviet Union under the Lend Lease program until 1951. In 1953, she became the first U.S. Navy ship to cut through the Davis Strait from Thule to Ellesmere Island. Under the U.S. Navy, Staten Island helped break through Arctic waters for Operation Deep Freeze. She was later transferred to the U.S. Coast Guard in 1966. In 1970, Staten Island became the fourth U.S. ship to circumnavigate the North American continent, traveling over 23,000 miles in the process. In 1972, she carried scientists who made determinations on the effects drilling for oil on the north slope of Alaska would have on the environment. Staten Island's final deployment was conducted in the summer of 1974. She was decommissioned in November of that year and sold for scrap, ending a 30-year icebreaking career.