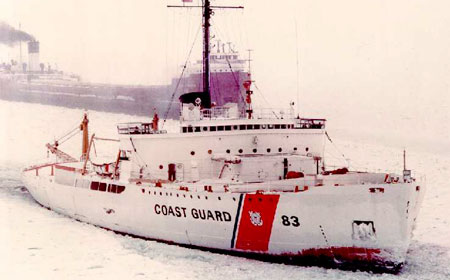 Builder: Toledo Shipbuilding Company (bankruptcy), American Shipbuilding and Drydock Company

Commissioned: December 20, 1944

Decommissioned: June 10, 2006

Length: 290 feet

Beam: 74.3 feet

Displacement: 5,336 tons

Speed: 15 knots (17mph)

Ice Capacity:
History: Mackinaw was built as part of the World War II effort to meet the heavy demands on the increased production of war materials. Tremendous increases in the movement of iron ore, limestone, and coal for the nation's steel mills was particularly necessary. In order to keep tonnage on the move during winter months, icebreakers were needed. Congress authorized the construction of Mackinaw on December 17, 1941, ten days after the attack on Pearl Harbor.
The Mackinaw was built specifically for Great Lakes use. She was a "squashed down" Wind class vessel, with greater beam and length, but shallower draft than those vessels. Her powerplant and general design were those of the Wind Class, but her hull was of mild steel, for freshwater operations. The Mackinaw was designed to extend the operating season in Great Lakes ports, a strategically important task considering the essential raw materials originating from the region: iron ore, coal, limestone, etc.
Cheboygan, Michigan remained her home port her entire life. Saved from scrapping, Mackinaw now serves as a museum ship known as the Icebreaker Mackinaw Maritime Museum, which you can visit in Mackinaw City, Michigan.