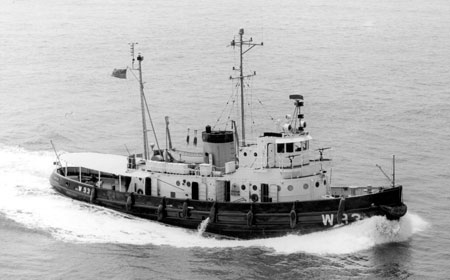 The Raritan class tugs were the first class of true icebreakers in the service, designed to break thick ice and not merely survive in it, and they proved highly successful. Their keel projected forward and faired into the slope of the stern providing a stabilizing element beneath the sharp upward angle of the icebreaking bow.
Builder: Defoe Boat Works (Bay City, Michigan)

Commissioned: April 11, 1939

Decommissioned: May 14, 1988
History: Germany invaded Denmark in April 1940 and then laid claim to Denmark's colony, Greenland, which requested U.S. protection. Because of the Coast Guard's ships, which could handle the ice conditions in Greenland waters, the State Department requested Coast Guard assistance in protecting Greenland sovereignty. The Raritan, along with three other Coast Guard cutters, were assigned to the Greenland Patrol. After the war, the Raritan operated in Boston Harbor, and then on the Great Lakes after 1962. She was decommissioned from Coast Guard Service in May 1988.