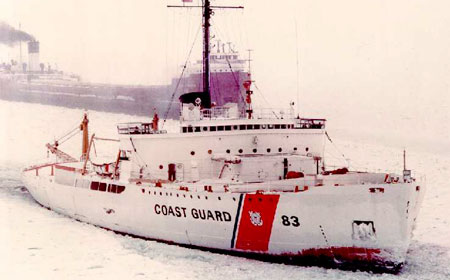 Edward H. Thiele was born on September 4, 1905. He served for more than two years in the active National Guard Company C, 121st Engineers. After receiving an honorable discharge, he accepted an appointment as cadet engineer at the U.S. Coast Guard Academy. He graduated with a Bachelor of Science degree and then served on various Coast Guard destroyers.
From 1930-1933, Thiele was assigned to the Coast Guard Academy as an instructor in electrical engineering. Upon leaving the Academy, he was assigned as an engineering officer on the destroyer USS Hunt and participated in the protection of U.S. nationals in Cuba during the 1933 revolution. He then served as an engineering officer on the Coast Guard Cutter Chelan in the Pacific Northwest and Bering Sea.
From 1936 to 1940, Thiele was assigned to Coast Guard headquarters in Washington, D.C., in the office of the Engineer-in-Chief as Chief, Internal Combustion Engine and Small Boat Section, and Chief, Research and Development Division. In 1937, Thiele was ordered to visit various countries to study their icebreakers. From the information he gathered, the Coast Guard built a new fleet of icebreakers.
In the early stages of World War II, Thiele was assigned to the office of the U.S. Navy Supervisor of Shipbuilding in New York City where he supervised the design and construction of icebreakers, including the Mackinaw for the Great Lakes, the Wind class for Arctic service, and the Raritan class icebreakers. All those vessels performed outstanding service in the Coast Guard.
After finishing wartime service, Rear Admiral Thiele was assigned as Senior Coast Guard and Merchant Marine Detail Officer, Europe, with headquarters in London, England. He was charged with operational and administrative control of all Coast Guard activities in the Eastern Atlantic and Mediterranean area. Thiele left London in 1953.
On May 22, 1957, the U.S. President nominated Rear Admiral Thiele to be Engineer-in-Chief of the Coast Guard, confirmed by the Senate and effective August 1, 1958. He retired from the Coast Guard on July 1, 1961.