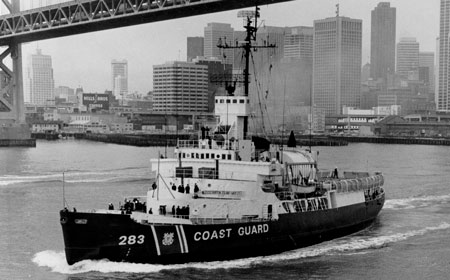 Builder: Western Pipe and Steel Company (San Pedro, California)

Commissioned: December 28, 1946

Decommissioned: December 15, 1978

Length: 269 feet

Beam: 63.5 feet

Displacement: 6,615 tons

Speed: 13.4 knots (15.4mph)

Ice Capacity:

Wind Class
History: Burton Island carried supplies in the first Antarctica development project, Operation Highjump. From April 1948 to December 1956, she participated in 19 Arctic and Alaskan cruises, where her duties included supply activities, helicopter reconnaissance of ice flows, scientific surveys, underwater demolition surveys, and convoy exercises. One prominent excursion was with the submarines USS Seadragon and USS Skate, in which torpedoes were tested underneath the polar ice pack. From 1967 to 1978 Burton Island went on Deep Freeze operations to the Antarctic. In those operations, she was responsible for creating and maintaining aids to navigation, clearing channels through the ice for supply vessels, laying cables, delivering U.S. Mail, search and rescue, fisheries patrol, law enforcement, and giving dental and medical treatment to remote Native Alaskan communities. She also served as a floating platform for scientific surveys and research around Alaska and other isolated polar areas. Burton Island was decommissioned in May 1978 and scrapped in April 1982.