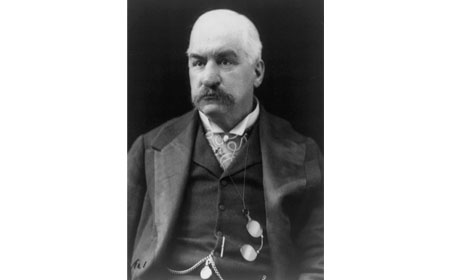 J. P. Morgan (1837-1913)
John Pierpont Morgan was a banker, railroad baron, and steel magnate. He helped stabilize financial markets during economic crises. In the rail industry, Morgan reorganized and consolidated financially troubled railroads, and at one time he controlled about one-sixth of America's rail lines.
Morgan was one partner, along with Andrew Carnegie, Charles Schwab, and Elbert H. Gary, involved in the creation of United States Steel Corporation, the largest business enterprise ever launched in America. The corporation continues to operate as a leader in both the American and global steel industries.
From 1897 to 1899, Morgan was Commodore of the New York Yacht Club. He enjoyed sailing, purchased various yachts, and funded the building of yachts. He also sponsored a few Cup defenders in the late 1800s and early 1900s.