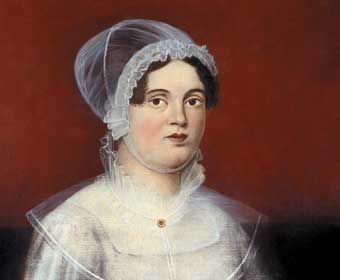 Rebecca Webb Pennock was born on January 6, 1794 in West Marlborough Township, Chester County, Pennsylvania. She was the eldest surviving child of Isaac and Martha Webb Pennock. Her father established and operated the Federal Slitting Mill (later called Rokeby). A slitting Mill was a specialized type of iron forge in which iron blooms were heated and rolled into plates that were then cut into the iron rods used by local blacksmiths.
Rebecca was intelligent, well educated, independent and a favorite child of her father. When she was not in school, Rebecca frequently accompanied her father to the iron works and on business trips. Rebecca remembered with fondness her excursions with him. What she learned about the business would be put to use in later years, but her mother disapproved (probably believing that a girl's place was in the home). The strained relationship between Rebecca and her mother began in childhood and continued throughout much of her life.
Typical of the Quakers who believed in equality in education, Rebecca was schooled through her teens, finishing her education at boarding school in Wilmington. She was an avid reader, interested in a variety of subjects and literary styles. She once lamented that for lack of better discipline she was a very indiscriminate reader.
While on a trip to Philadelphia soon after finishing school, Rebecca met Dr. Charles Lukens who had a successful medical practice in Abington, Montgomery County. As they made plans to wed, Rebecca convinced him to leave his practice and learn the iron business with her father. On March 25, 1813, they were married in the Society of Friends. By this time, Isaac Pennock was operating two ironworks, Rokeby and the Brandywine Iron Works and Nail Factory (in a partnership with Jesse Kersey). In l817, Isaac bought out Kersey and Charles, Rebecca and their two children moved to Brandywine to operate the Brandywine Ironworks on their own. While they paid rent to Isaac, they also paid for all repairs, maintenance and improvements with the understanding that Isaac would leave the Brandywine property to them when he died.
Although Rebecca was busy having babies and running the home, she also understood the business and worked closely with her husband. While relatively new to the iron business, Charles' scientific background helped him realize that modernization and innovation would be the key to their future. After learning about a sailing ship that had steam power, Charles determined that iron plates for the boilers would soon be in great demand. He and Rebecca went into debt in order to refit the ironworks to roll out boiler plates. In 1818, Brandywine Ironworks was the first place in the United States to make boiler plates.
By the early 1820's, although still in debt, they had survived the changeover and a major flood and looked to a comfortable future with their five children. Two years of tragedy altered Rebecca's life forever. Their son Isaac died in 1822. Rebecca's father Isaac Pennock died in 1824, without leaving the ironworks to them. In 1825, their son Charles died. Then in June, 1825, with Rebecca pregnant with their sixth child, Charles Lukens died after a brief illness. Rebecca was left with three daughters and a fourth on the way, a not yet solvent ironworks that she did not actually own, and a promise to Charles that she would continue the business.
It appears that Charles did not make a foolish request. He had spent years developing a new business, establishing a market for his product and relationships with his suppliers and employees based on honesty and respect. He also understood that Rebecca had the intelligence, education and strength to succeed. Under Rebecca's direction, the new and growing boiler plate business would provide for his family.
Years later Rebecca would recall the devastation she felt at the loss of her devoted husband, but she promised not to give up. Businessmen like Charles Brooke and William Sproule offered credit and advice and Charles' younger brother Solomon offered to help. He stayed for fifteen years. Rebecca had to learn to deal with suppliers and employees who viewed her as a woman, incapable of being a boss. By 1834, she had survived another major flood, witnessed the arrival of the railroad, paid off all the debts and began to expand. As Charles had predicted, the demand for boiler plates was high and Brandywine Ironworks was among the first to corner the market.
After repaying business debts, Rebecca rebuilt and expanded the entire facility. At the same time she made financial settlements with her sisters and mother, thinking she was finally obtaining clear ownership of the properties. Through her fine management the Brandywine Ironworks grew, prospered and survived floods, financial panic of 1837, a suit over water rights and failure of long sought for tariffs to protect American products.
When her mother died in 1844 difficulties with her relatives continued as the Pennock relatives sued her over inheritance of the Brandywine properties. Initially she prepared to battle through the Superior Court of Pennsylvania, but there must have been an out of court settlement. Rebecca again paid off relatives, and finally in 1846 obtained ownership of the entire ironworks.
The painful lessons learned affected her handling of her granddaughter. Her youngest daughter, Charlesanna died shortly after the birth of her own daughter, Charlesanna Tingley. Again Rebecca was faced with a deathbed wish - that she raise her granddaughter. She agreed but insisted on a written agreement signed by the father, Dr. William Tingley. Rebecca's will also left strict instructions on the trust for Charlesanna so that she would always be provided for and protected from others taking her assets.
Rebecca gradually retired in the late 1840's, turning over responsibilities first to son-in-law Abraham Gibbons, then also to son-in-law Dr. Charles Huston. She looked forward to a leisurely life, but her diary indicated feelings of despair and uselessness. After the long years of raising her daughters alone and at the same time running and enlarging an industrial business, Rebecca was not prepared for staying home with unlimited time.
Rebecca Lukens died on December 10, 1854. She was remembered by family and friends as warm and loving. But she is remembered best as an independent, strong-willed woman who succeeded in an all-male occupation in which men frequently failed. Her life's accomplishments and her personal strengths have been best described by the title of a 1947 radio play, "Rebecca Lukens: Woman of Steel."
Susannah Brody
July, 1991