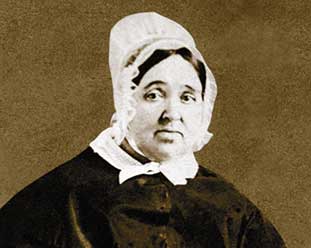 Rebecca Lukens' character and resolve forged an American success story against the backdrop of the Industrial Revolution. Born in 1794, during George Washington's presidency, Rebecca's life spanned an exciting time in American history, ending in 1854, six years before the American Civil War.
Her birthplace, Chester County, was close to the nation's capital of Philadelphia. The young nation was politically free from England, but had just begun to find its economic freedom. The Colonies had supplied England with raw materials, like cotton and iron, and imported expensive manufactured goods in return. With independence and the onset of the Industrial Revolution, the United States was free to manufacture its own goods, from clothing to nails and iron wagon wheels.
Around 1760, the First Industrial Revolution began the transition from manual production to new manufacturing processes. Many industrial changes occurred over the next few decades, including new chemical manufacturing and iron production processes, improved efficiency of water power, the greater use of steam power, the development of machine tools, and a change from wood and other bio-fuels to coal as fuel for the new machines and processes.
The Second Industrial Revolution occurred between 1840 and 1870. During this time, technological and economic progress continued as nations adopted steam-powered railways, boats and ships, manufactured tools, and increased the use of steam-powered machinery in factories. The Industrial Revolution began an era of per-capita economic growth that changed the political, social, and economic fabric of society throughout the United States and the world. The new age of industrial and revolutionary changes was Rebecca Lukens' time.