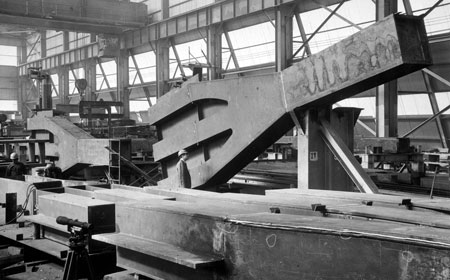 From the 1990s to the early 2000s, the steel industry was in a flurry. Many companies filed for bankruptcy protection, and they revamped their companies by combining jobs, moving around rules and regulations, and getting rid of certain types of management. More than 40 steel companies have gone bankrupt since the '90s. The United States' government also applied restrictions on steel imports from other countries to try and save the industry, but many companies still lost everything. Since the 1980s, the industry had been having a hard time staying afloat; the big job of building the World Trade Center in New York City saved many jobs that would have otherwise been lost.
Lukens Steel was bought by Bethlehem Steel in 1998, then Bethlehem Steel was bought by Mittal Steel in 2004; this company later merged with Arcelor, creating ArcelorMittal Steel, which is worth billions of dollars. The steel mills in Coatesville that were a part of these sales are the oldest continuously running steel plants in the country. This past year, 2020, ArcelorMittal sold its plants in Coatesville and Conshohocken to Cleveland-Cliffs, effectively putting the control of the United States' steel industry under Americans once again.
From 2000 to 2011, the rate of loss in the U.S. increased at a rate much faster than in previous decades. This meant a loss of 5.4 million jobs, and over 60,000 steel businesses closed. After the large contract of building the World Trade Center, jobs continued to be lost and companies continued to file bankruptcy at an alarming rate. The steel industry is still suffering today, but seems to be making a comeback since 2019, with new companies beginning and jobs coming back. America has begun to restructure the industry to include home bases in the U.S.