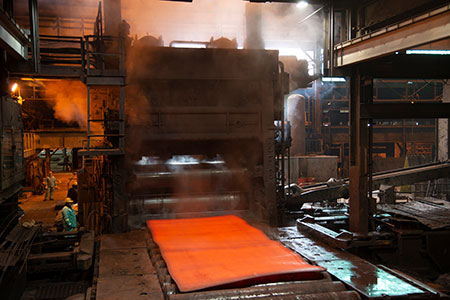 THE COATESVILLE STEEL SITE
The United States Navy and the Coatesville steel site have a strong relationship, and a long relationship that began when the Navy started to use iron in its ships. Due to its capability of producing high strength and specialty armor plate, the Coatesville steel site has supplied product for many submarines and ships throughout the history of the U.S. Navy.
Lukens Steel Company supplied steel for the decks and hulls of American aircraft carriers up until its sale to Bethlehem Steel Corporation in 1998. Lukens supplied 10,000 tons of steel for the USS Nimitz (CVN 68), first in its class. Plates were used for the ship's flight deck, hull and frames, and the keel. Lukens supplied the following steel for the USS Nimitz:
4,600 tons HY-100
3,900 tons HY-80
1,500 tons High Tensile
190 tons STS
300 tons MILS-22698
150 tons A-302 plate
8 elliptical heads of A-302 Grade B for the catapult steam wet accumulation
Today, the Coatesville steel site, operated by ArcelorMittal, supplies up to 95% of the armor plate for the U.S. Navy. That steel goes into the decks and hulls of aircraft carriers, the hulls of submarines, and other areas. The armor plate for the Navy is rolled on the 206" Rolling Mill (built 1917-1919), once the widest mill in the world, and is presently the widest in the United States. Wide plates reduce the need for welding, which can be failure areas in vessels.