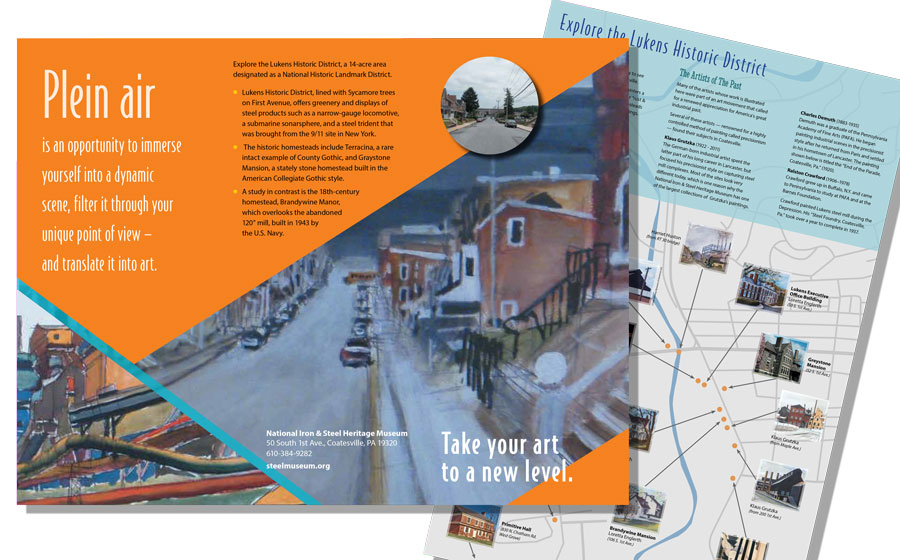 IS AN OPPORTUNITY TO IMMERSE YOURSELF INTO A DYNAMIC SCENE, FILTER IT THROUGH YOUR UNIQUE POINT OF VIEW — AND TRANSLATE IT INTO ART
The motto of the plein air artist should be "have easel, will travel." The constant need to find new painting sites is answered in a region of Coatesville that tells the story of Chester County's early iron and steel industry. Explore the Lukens Historic District, a 14-acre area designated as a National Historic Landmark District.
Lukens Historic District, lined with Sycamore trees on First Avenue, offers greenery and displays of steel products such as a narrow-gauge locomotive, a submarine sonarsphere, and a steel trident that was brought from the 9/11 site in New York.
The historic homesteads include Terracina, a rare intact example of County Gothic, and Graystone Mansion, a stately stone homestead built in the American Collegiate Gothic style.
A study in contrast is the 18th-century homestead, Brandywine Manor, which overlooks the abandoned 120" mill, built in 1943 by the U.S. Navy.