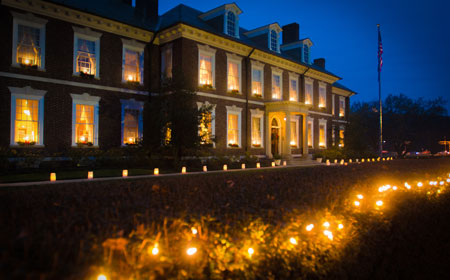 You won't want to miss this year's Holiday Open House & Auction. The event is very popular for its magical setting and old-fashioned traditions including live holiday music by the celebrated Lukens Band, one of the few brass ensemble bands in the region.
Enjoy delicious holiday refreshments; visit with the knowledgeable museum staff; and make memories with this holiday annual event.
You can look forward to the Christmas season by enjoying traditional holiday music and seeing displays that include a giant decorated tree and the sweeping grand staircase of Lukens Executive Office Building festooned with garlands.
The online auction site will allow you to peruse the wonderful gifts and items open for bidding. We expect they will include rounds of golf, sports memorabilia, tickets to area museums, gift baskets, restaurant gift certificates, balloon rides, and much, much more. Check back for more auction details as they become available.
Open House - 5:00 PM to 8:00 PM