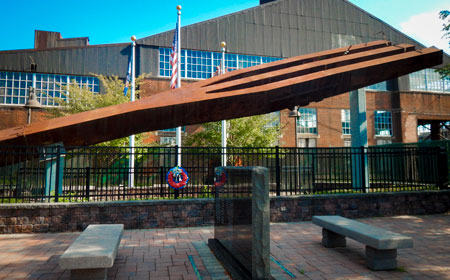 Due to the forecast for rain Sunday morning the commemoration service will take place inside the Lukens Executive Office Building.
Coatesville Remembers: World Trade Center 21st Anniversary Commemoration
They should never be forgotten. The thousands of victims of the 9/11/2001 terrorist attack on the World Trade Center twin towers will be remembered at the National Iron & Steel Heritage Museum's "Coatesville Remembers September 11th" Commemorative Service, Sunday September 11, beginning at 8:40 AM.
The Lukens Executive Office Building and the Visitor Center will be open from the conclusion of the Commemoration Service until 12 PM.
The Commemoration Service will also be streamed live via links on our homepage.