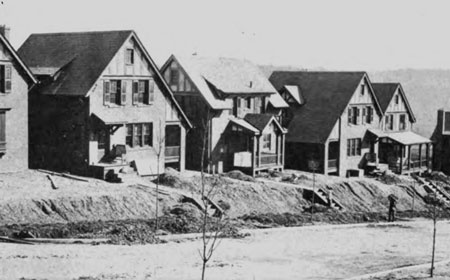 Please join us for our November Lecture as Dr. Anne E. Krulikowski from West Chester University presents "Utopia for Workers: Housing and Planned Industrial Communities."
American reformers and philanthropists who desired to improve the circumstance of workers in the steel, coal mining, shipbuilding, and textile industries looked to English models of planned worker communities. Pullman in Chicago is a famous American example, but there were important utopian experiments in the mid-Atlantic and in Coatesville as well. This talk will explore the wide range of efforts to provide better housing and living conditions to America's industrial workers and their families.
Dr. Krulikowski earned her Ph.D in American History from the University of Delaware, with a focus in material culture and historic preservation. She also has M.A.'s in American History and British & American literature from Villanova University. She worked for five years at Rockwood Museum, a Victorian house in Wilmington, Delaware, where her responsibilities included overseeing house and school tours and developing public programs and special tours for children and adults. She has served on the Board of the Friends of Rockwood and contributed to several re-interpretive projects of kitchen spaces, and domestic technology and labor.
6 pm | $5, members free
Light refreshments