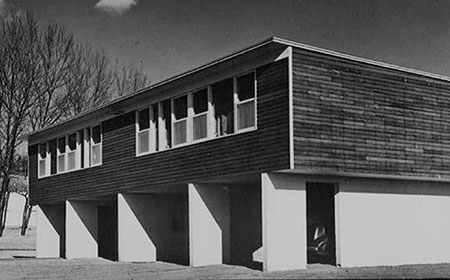 Three giants of modern architecture in Philadelphia–George Howe, Louis I. Kahn, and Oskar Stonorov–collaborated on this Federal housing project built for African American defense workers and their families just outside Coatesville during World War II. A former race track was converted into a landscaped cul-de-sac encircling a common green space, lined with 100 units of one- and two-story International Style homes.
Preservation Alliance for Greater Philadelphia
Carver Court is significant for important contributions to our understanding of the African American experience in Coatesville and as the work of prominent architects (and social activists) George Howe, Louis Kahn, and Oscar Stonorov, who promoted quality affordable, modern, and equitable public housing. The National Register nomination explains the relationship between the Coatesville area steel industry and the African American community, outlines how the federal government provided worker housing for industries supporting WWII defense efforts, discusses the motivations and goals of the architects involved in designing Carver Court, and provides personal insights about living in this tight-knit neighborhood by current and former residents.
Celebrating African American History at Carver Court