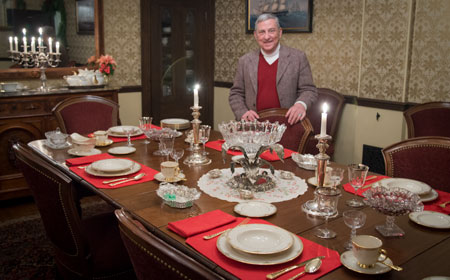 Join us for a behind-the-scenes tour of Terracina, a nineteenth-century ironmaster's home. Built in 1850, Terracina was the home of Isabella and Dr. Charles Huston, second president of Lukens Steel Company, and later, home of Stewart Huston. Today, the Country Gothic style home is furnished with Victorian antiques from the second half of the 1800s.
For one time only, you can receive a specialized tour of Terracina, which focuses on the history of the antiques and the lives of those that lived during the nineteenth century. From 1850s desks, to 1870s gasoliers, to chairs and couches, and much more... you can see it all.
With Eugene DiOrio (former Lukens Steel Company employee and local historian) as your tour guide, this is your chance to see Terracina like never before, and enjoy learning about the life and times of the Victorian era.
Tour at 11am
RSVPs are required.
$20 per person, $18 museum members
Call 610-384-9282, or email us, to reserve your spot.