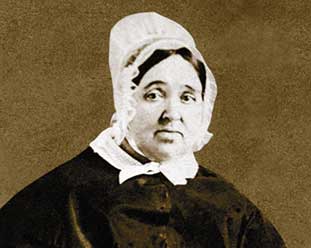 Rebecca Lukens' character and resolve forged an American success story against the backdrop of the Industrial Revolution. Born in 1794 during George Washington's sixth year as president, Rebecca's life spanned an exciting time in American history ending in 1854, six years before the American Civil War.
Her birthplace, Chester County, was close to the nation's capital of Philadelphia. The young nation was politically free from England, but only beginning to find its economic freedom. The Colonies had supplied England's industry with raw materials, like cotton and iron, and imported expensive manufactured goods in return. Now the United States was free to manufacture its own goods from clothing to nails and iron wagon wheels.
The timing could not be better. Americans were free to create their own manufacturing industry right at the start of the Industrial Revolution. Around 1760, the First Industrial Revolution marked the transition from manual production to new manufacturing processes — ushering in an era of new chemical manufacturing and iron production processes, improved efficiency of water power, the increasing use of steam power, the development of machine tools, and a change from wood and other bio-fuels to coal.
During the Second Industrial Revolution, between 1840 and 1870, technological and economic progress continued with the increasing adoption of steam-powered railways, boats and ships, the large-scale manufacture of machine tools, and the increasing use of machinery in steam powered factories. The Industrial Revolution began an era of per-capita economic growth that would change the political, social, and economic fabric of society. This time in history ushered in a new age for humanity. This was Rebecca Lukens' time.